Discover more from Hospitality is a Lifestyle
Re-imagining the art of hospitality.
Have you ever had an experience of tasting a dish, where upon eating it you are transported to a time or place that evokes pleasant memories? Maybe a unique memory of time spent with family or friends? Maybe a recollection of your childhood? Food has an amazing ability to make us nostalgic - stimulating optimism or feelings of wellness during a positive food experience.
I call this Food Nostalgia. An entire sensory experience pulling in all five senses (sound, sight, smell, touch, and taste) while drawing on fond memories or experiences.
"If you really want to make a friend, go to someone's house and eat with him…the people who give you their food give you their heart."- Cesar Chavez.
It was during a recent visit to Bistro Vida in Menlo Park, California, that I had a recurrence of food nostalgia. We went on a Thursday evening, and chose to sit inside due to the wet and windy January weather. It always feels like coming home when we visit his stylish establishment.
Ali El Safy, the proprietor of Bistro Vida for 27 years, served us with his heart. We were seated on a banquette in the center of the elegant room, facing the long, well stocked bar, which made it easy for Ali to drop in on us periodically with an aperitif, and tastings of various chardonnays, all whilst engaging with us about the restaurant, the community or other local news.
Looking around the space, I noticed how different the vibe was compared to the seating outside on the beautiful terrace during our previous visits.
Bistro Vida is an authentic French bistro, which in itself made the visit nostalgic, given the number of bistros I have experienced here in Europe.
A relaxed ambience, large, elongated room with a view of the open kitchen, an art wall that stands out against the background of the vivid red painted walls, mimicking the bright red entrance door, design elements that add a Parisian flair, reminiscent of bistros.
French Bistros (not to be confused with French Brasseries), typically serve simple small menu and dishes typically based on homestyle cooking that are simple yet refined. Quality over quantity is the game; however, not here in Ali's home, where he dishes up both quality and quantity on every plate, in keeping with the all the principles of good menu planning.
The dishes are original, versatile, with ease of preparation, plating considers color, consistency, texture, and flavor. The seafood entrées with Poisson du marché du jour, is indeed something to talk about.
The desserts took the cake here, pun intended! Surprisingly, this produced an unexpected recollection. I am not a fan of desserts, in general. But whenever I see a tarte tatin on the menu, which happens to be my favorite, I give in.
The requirements for authentic tarte tatin are: in-season apples, exquisitely caramelized to an amber color and cooked to an almost jammy consistency, with the pastry remaining intactly crispy.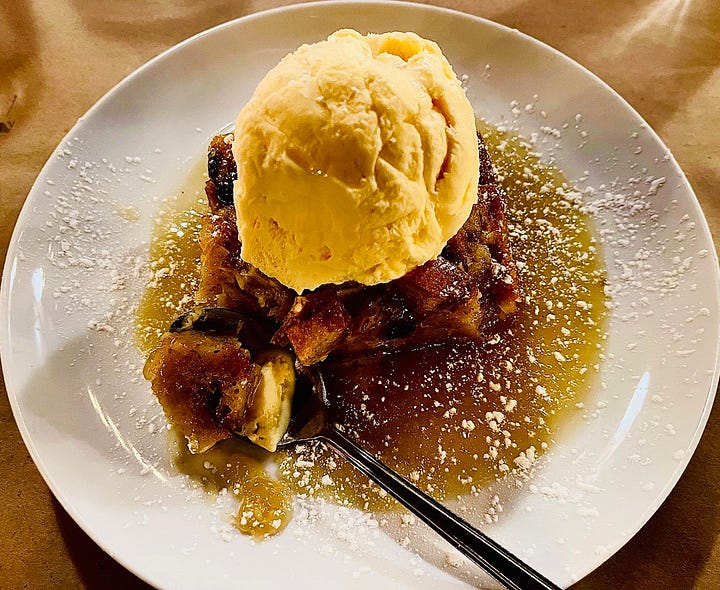 Bistro Vida's tarte tatin evoked in me memories of the hours spent researching and testing tarte tatin recipes during my days building my food business in Hong Kong, and then later working at Stanford Hospital. Such fond reflections of discovering the perfect balance of taste and texture.
"Pouding au Pain" (bread pudding) was equally a winner, well produced with structure and texture, yet delicate and creamy with just the right sweetness, warm from the oven served with copious French Vanilla ice cream.
We cherished the attention from the waitstaff who were friendly, attentive, and knowledgeable. The wine list is quite substantial, and it was interesting to see Ali had included Crémant on the list, fruity and delicious.
French style Bistros are often recognized for their courtyards and terraces packed with small circular tables and folding chairs. Sitting down with Ali after dessert, enjoying a coffee, mapping out his plans with us for the new year, I learned a few more facts about Ali and finally understood our draw and our commonalities.
"My mother always said, anything is possible. I left home [from Egypt] at a very young age and moved to the US, not speaking a word of English. I wanted to be a restaurateur as soon as I got a taste of the business. I wanted to bring a little bit of Europe home, in Menlo Park.
"Paris has always been my favorite city, I love the lifestyle, culture, and trends. My apartment in Montmartre Paris is my place to go to for a break. I have a brother in Cairo, and I look forward to visiting him soon.
"Menlo Park has been my home for longer than I've lived anywhere else. I love the small-town feeling and charming downtown where I know everyone. I have watched people meet, get married, have children and those kids have grown up and come to my restaurant, celebrating birthdays, holidays, and milestones."
Ali opened Vida in 1998. This was the time I arrived in California! He had been working with Vincenzo, a true gourmand, at the 27-year-old restaurant, Dal Baffo in Menlo Park.
I joined Dal Baffo, my first job, in 1999-2001. An elegant, fine dining restaurant serving European cuisine, primarily Italian with French classic techniques. It featured a wine cellar that won one of the Wine Spectator magazines highest awards for excellence. The restaurant had been a favorite of Silicon Valley businesspeople. Sadly, it closed in December of 2004.
You can imagine our nostalgic conversations over dessert. Taste is linked with memories of being in a location where something positive or negative happened.
Standing with and behind Ali is Christie Perego, Chief Inspiration Officer of Aposto Fine Foods of Italy. Christie is instrumental in supporting Ali at Bistro Vida in the back office. Her contributions are phenomenal and her expertise on food products is valuable.
The devotion to its success and care for its clientele has earned Ali and Bistro Vida many accolades. In August 2021 it was announced: "Bistro Vida in Menlo Park celebrated as the 13th Senate District's Small Business Of The Year."  
Understanding the dynamics of what makes a great community, Ali developed a unique way to give back to the community that had supported him over the decades. Ali's brainchild was born - Bon Marché. He built an European-style boutique and farmers market adjacent to his restaurant.
"Every production of an artist should be the expression of an adventure of his soul." – W. Somerset Maugham
"The community has been incredibly supportive of the idea. I think there's opportunity to involve more local business and vendors who are selling unique, artisanal products that aren't easy to find in every grocery store. It's also a fun way to bring people downtown to get together outdoors, enjoy a little shopping, a glass of wine in hand, and maybe stay for dinner afterwards. It's wonderful to see how much life it brings to downtown."
Community spirit is part of Ali's DNA, his leadership during the pandemic not only met the challenges of pandemic, he also kept the vibrancy of Menlo Park's downtown alive.
"The pandemic was an eye-opener on how to run a business and survive in hard times. We reinvented ourselves, everybody pitched in now there is light at the end of the tunnel."
Thank you Ali for the Seva, you continue to demonstrate true hospitality to your people by ways of nourishment, inclusivity, connection and community.
What food, dish or flavor evokes fond memories for you?